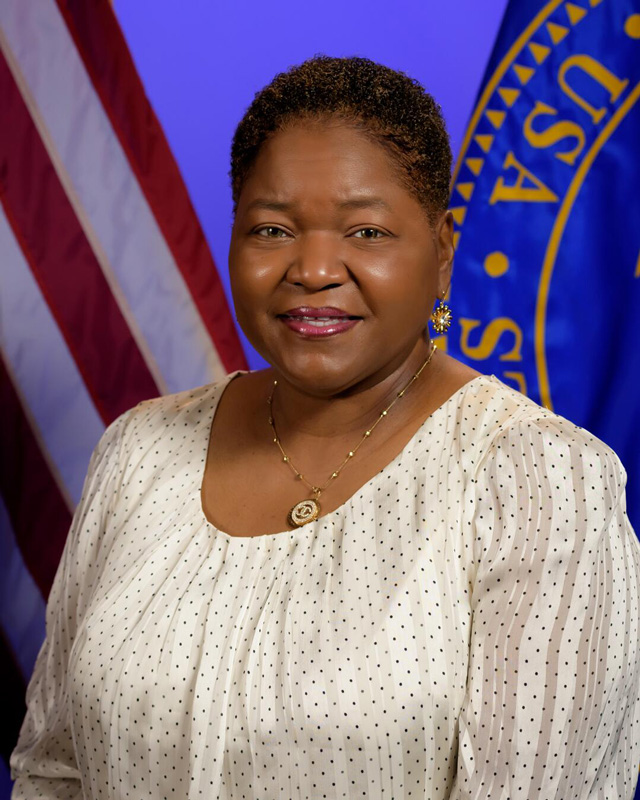 Director
Office of Health Equity
Health Resources and Services Administration
U.S. Department of Health and Human Services
Biography
Michelle Allender is the Director of the Office of Health Equity (OHE) at the U.S. Department of Health and Human Services (HHS), Health Resources and Services Administration (HRSA). She was appointed to this position in April 2011 where she and her staff work to eliminate healthcare disparities within our communities through:
Increasing awareness of the significance of health equity and inequalities;
Strengthening and broadening leadership in the area of improving health and healthcare outcomes;
Improving cultural and linguistic competency and diversity internally among HRSA leadership and externally among grantees and a broad array of healthcare professionals; and
Strengthening data research and evaluation to include leadership/coordination responsibility across the agency for all vulnerable populations including American Indian/Alaska native activities.
Ms. Allender is a registered nurse with over 30 years of experience in the healthcare arena. Prior to securing a position within the federal government, she held several positions in the public sector. As the Director of Perioperative Services at Bon Secours Health Systems, she managed budgets, operations and quality improvement efforts for six operating rooms, endoscopy services, preadmission testing, same day surgery, recovery room, sterile processing, and the laser eye center. Additionally, as the Corporate Director for Clinical Resource Management, at the Health System Office (HSO) a Catholic-owned health system operating 14 acute and several long-term care facilities in six states, Michelle led the system-wide development, communication, and promotion of cost saving opportunities and process improvements pertaining to cost effective selection and utilization of clinical related supplies, equipment, information systems, services, and staff in conjunction with enterprise resource planning and supply chain/materiel management.
While at Bon Secours, Michelle initiated several product utilization committees, which were successful in reducing costs through product standardization as a system. Additionally, Michelle served as the Supplier Diversity lead for the corporate office and represented the organization as a member of Premier's Group Purchasing Organization (GPO) committee at the national level. Models for new technology assessment and value analysis were developed as well. Michelle worked external to her department on information systems and other system wide initiatives and projects and was a member of the Clinical Transformation Team.
After her career in the private sector, Michelle joined The Centers for Medicare & Medicaid Services (CMS) in 2009 as a Nurse Consultant and was promoted to Health Insurance Specialist in 2010 as the program manager and strategic lead in the Quality Measurement & Health Assessment Group in the Division of Ambulatory Care and Measure Management for the Physician Quality Reporting Initiative (PQRI) and E-prescribing (eRx) of electronic prescriptions incentive programs. These two programs are very large and involve complicated processes that aggregate quality measure reporting through claims, registry, group practice reporting, and EHR data. As the government task lead (GTL) for the program management and business requirements contract and several other support contracts to the PQRI and E-prescribing programs, Michelle lead, coordinated, and represented the organization at meetings, national provider calls and numerous other arenas as a subject matter expert for the public with government and non-government officials concerning policies, projects, business requirements/business process models, and data related to the measurement and assessment of quality.
Michelle holds an Associates of Arts degree from Baltimore City Community College (BCCC), a Bachelor of Science degree in Nursing from Coppin State University, Baltimore, MD., a Masters degree in Administration/Managed Care, and a Post Masters degree in Informatics, both from the University of Maryland in Baltimore. Michelle is Six Sigma trained and holds a green belt certification, and is a graduate of the Federal Executive Institute, Charlottesville, VA.
Definitions
Health Equity is the absence of disparities or avoidable differences among socioeconomic and demographic groups or geographical areas in health status and health outcomes such as disease, disability, or mortality.
Social Determinants of Health are conditions in the environments in which people are born, live, learn, work, play, worship, and age that affect a wide range of health, functioning, and quality-of-life outcomes and risks.