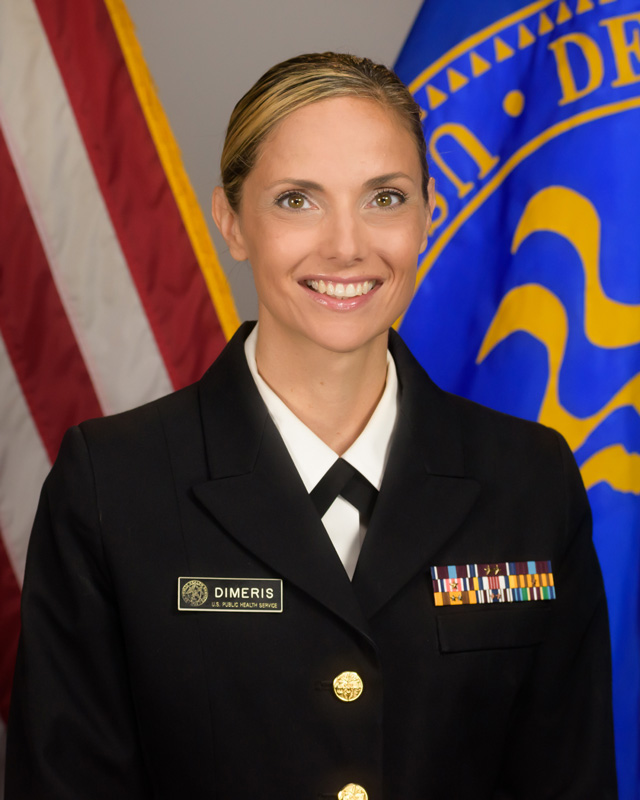 Director, Office for the Advancement of Telehealth
Health Resources and Services Administration
U.S. Department of Health and Human Services
Biography
Heather Dimeris serves as the Director for the Office for the Advancement of Telehealth (OAT), Health Resources and Services Administration (HRSA) at U.S. Department of Health and Human Services. She is a Captain (CAPT) in the United States Public Health Service (USPHS).
The Office promotes telehealth as a way to deliver health care, and supports the Department of Health & Human Services' (HHS) telehealth efforts to expand access and improve health outcomes.
Throughout her career, CAPT Dimeris has been committed to expanding health care access to advance the public's health, particularly in the area of telehealth. Her work included the creation of multiple telehealth grant programs including the Substance Abuse Telehealth Network Grant Program, the Tele-Behavioral Health Network Grant Program, the Telehealth Broadband Pilot Program, the Telehealth Center of Excellence Grant Program, and the Telehealth Technology-Enabled Learning Program.
In response to the unprecedented Public Health Emergency, CAPT Dimeris led the rapid creation of the HHS Telehealth Website in partnership with the White House Office of Science and Technology Policy, Immediate Office of the Secretary and the Assistant Secretary for Preparedness Response. The HHS Telehealth Website, receiving over one million page views in its first year, serves as a resource for patients and providers to obtain or deliver health care services via telehealth.
CAPT Dimeris also created and leads the HRSA Telehealth Workgroup that serves as a resource for rural and underserved communities and provides telehealth-related recommendations to federal and state governments. CAPT Dimeris led the HRSA Telehealth Strategic Plan that allowed HRSA to be an agency-wide leader in the field of telehealth, resulting in over 1,300 HRSA grants that include telehealth. In 2021, CAPT Dimeris received the HHS Award for Distinguished Service for exemplary leadership and innovation in expanding telehealth in response to the COVID-19 pandemic.
Prior to her role in OAT, CAPT Dimeris served as the Deputy Associate Administrator for the Federal Office of Rural Health Policy (FORHP), for five years. In that role, she managed a broad range of rural health issues with an emphasis on telehealth policy and programs as well as rural health policy and research. CAPT Dimeris joined HRSA in 2003 as a HRSA Scholar. In her early years at HRSA, CAPT Dimeris served as a project officer and policy analyst for FORHP and in 2007, she became the Associate Director and Senior Advisor for FORHP to manage the office operations and assist with overall management of FORHP.
CAPT Dimeris was dietitian for Malden Hospital in Massachusetts prior to working at HRSA. She holds a Master of Science degree in public health nutrition from Case Western Reserve University and a Bachelor of Science degree in dietetics from Indiana University of Pennsylvania.