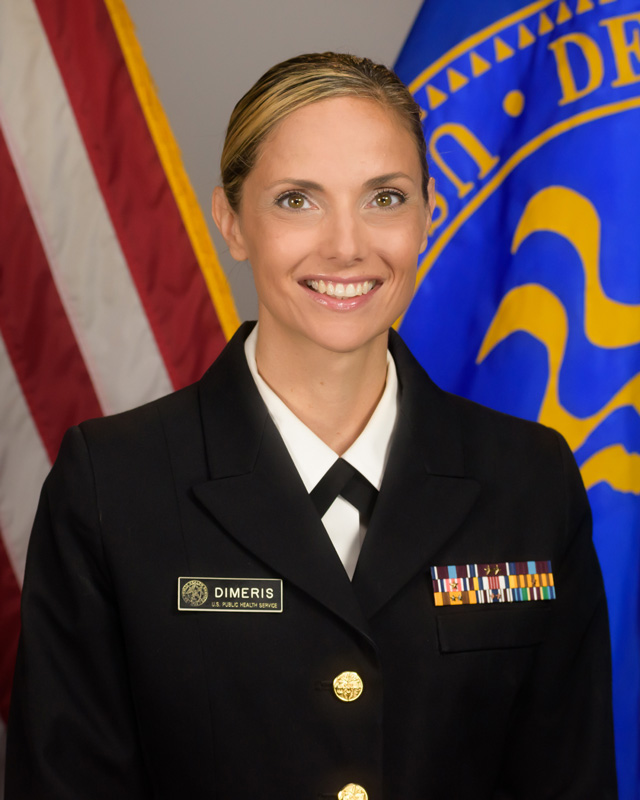 Director, Office for the Advancement of Telehealth
Health Resources and Services Administration
U.S. Department of Health and Human Services
Biography
Heather Dimeris serves as the Director for the Office for the Advancement of Telehealth (OAT), Health Resources and Services Administration (HRSA) at U.S. Department of Health and Human Services and she is a Captain (CAPT) in the United States Public Health Service (USPHS). She joined HRSA in 2003 in the Federal Office of Rural Health Policy (FORHP) as a Public Health Analyst and managed operations as the Associate Director and Senior Advisor in 2007 before becoming the FORHP Deputy Associate Administrator in 2016 and OAT Director in 2021.
CAPT Dimeris oversees the Office for the Advancement of Telehealth at HRSA, which promotes telehealth as a way to deliver health care and supports the Department of Health & Human Services' (HHS) telehealth efforts to expand access and improve health outcomes. Her work includes administration of the HHS Telehealth website, created in 2020.
Prior to working at HRSA, CAPT Dimeris was a dietitian for Malden Hospital in Massachusetts. She holds a Master of Science degree in Public Health Nutrition from Case Western Reserve University and a Bachelor of Science degree in Dietetics from Indiana University of Pennsylvania.