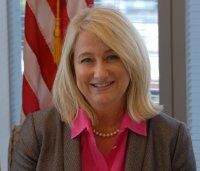 Chief Operating Officer/Associate Administrator for Operations
Health Resources and Services Administration
U.S. Department of Health and Human Services
Biography
Wendy Ponton became HRSA's Chief Operating Officer in July 2014. As COO, she oversees management and operations for the agency.
She provides strategic direction for HRSA's 2,000 employees while ensuring HRSA has proper resources to fulfill its mission to improve health and achieve health equity. Specifically, Mrs. Ponton manages HRSA's budget; leads acquisitions and contractual assistance; manages information technology and security; and directs human resources strategy, training, and workplace development.
Since joining the agency in 1998, Wendy has held a number of progressively responsible leadership positions at HRSA, including Deputy Chief Operating Officer, Director of Management, and Director of Workforce Management.
She is a member of the Senior Executive Service, a graduate of the Federal Executive Institute, and a Senior Fellow with the Partnership for Public Service Excellence in Government Program.