In June 2022, HRSA's efforts supported the Biden-Harris Administration's initiatives to address the overdose epidemic, advance health equity, and reduce the number of new HIV infections in the United States. We also celebrated Pride month and launched a competition to encourage innovation in primary care.
A few highlights from this month:
White House Blueprint for Addressing the Maternal Health Crisis
Administrator Johnson joined Vice President Kamala Harris in Chicago to launch the Maternal Health Blueprint, which outlines the Administration's priorities for improving maternal health outcomes in the United States to combat maternal mortality and morbidity. The maternal health crisis is particularly devastating for Black women, Native women, and women in rural communities who all experience maternal mortality and morbidity at significantly higher rates than their white and urban counterparts. HRSA plays a critical role in support the Blueprint's goals through our maternal and child health, rural health, and primary care investments.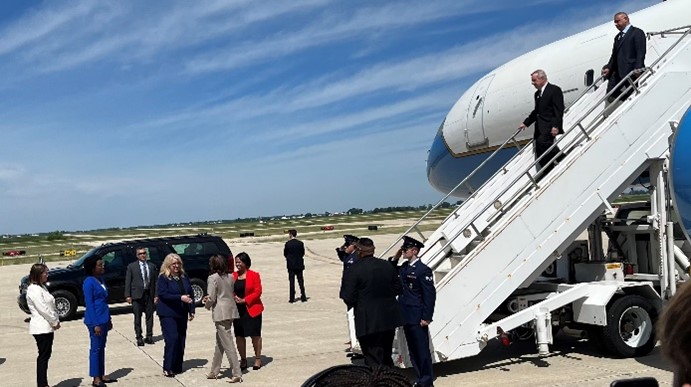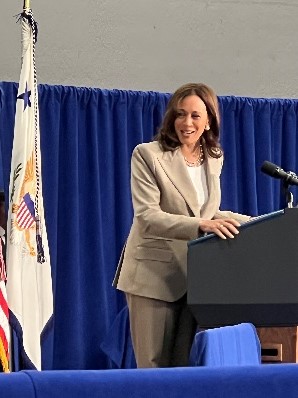 HRSA, White House, and HHS Lead Stakeholder Call on Maternal Health Blueprint
Administrator Johnson joined HHS Secretary Becerra and the Office of the Vice President and maternal health experts from across HHS to speak with maternal and child health leaders about the Administration's priorities in promoting equity and reducing disparities in maternal health outcomes.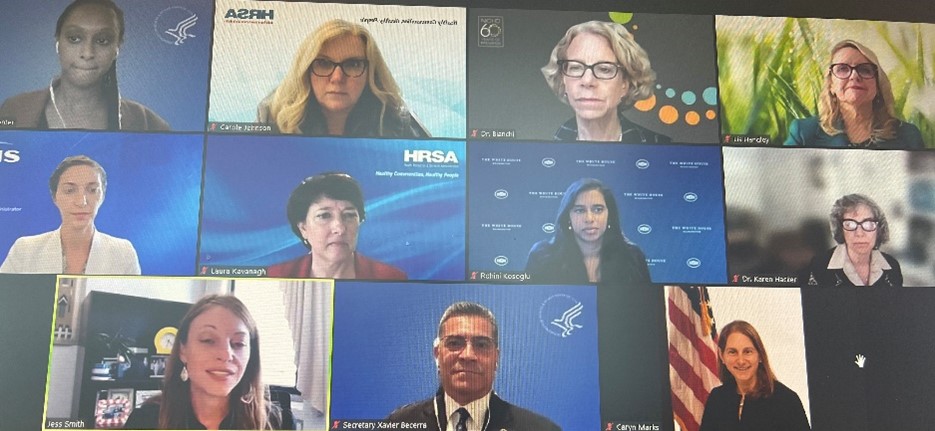 People's Choice Award Top Finalist: HRSA's Suma Nair 
HRSA's Suma Nair was named one of the top six finalists for the 2022 Samuel J. Heyman Service to America Medal (Sammies) People's Choice Award, which recognizes excellence in the federal workforce. A nearly 20-year veteran of the agency, Nair was instrumental in launching an entirely new program that delivered tens of thousands of test kits, masks, and millions of vaccine doses to some of the hardest hit and highest need communities in the country. Vote for Suma until July 1!
HRSA Awards $115 Million to Support Ending the HIV Epidemic in the United States
HRSA awarded nearly $115 million to 60 recipients to help implement the Ending the HIV Epidemic in the U.S. (EHE) initiative, which is part of the Biden-Harris Administration's ongoing efforts to reduce the number of new HIV infections in the United States by at least 90% by 2030. Awards will support innovative strategies that help people with HIV access care, support, and treatment services to live longer, healthier lives.
HRSA Invests Nearly $15 Million to Prevent and Treat Stimulant Use in Rural Communities
HRSA announced nearly $15 million in funding to rural communities to address psychostimulant misuse and related overdose deaths. The HHS Overdose Prevention Strategy notes that the overdose crisis has evolved over time and is now largely characterized by deaths involving illicitly manufactured synthetic opioids, including fentanyl, and, increasingly, psychostimulants. The rate of drug overdose deaths associated with psychostimulants in general is higher in rural than in urban areas.
HRSA Announces Availability of $10 Million for Rural Communities to Expand Treatment in Response to Surging Fentanyl and Other Opioid Overdoses
HRSA also announced the availability of $10 million in substance misuse grant funding through the HRSA Rural Communities Opioid Response Program. Rural communities are on the frontline of the surge in synthetic opioid overdoses, including fentanyl and fentanyl-laced drug overdoses. This funding will help rural communities establish new treatment access points to connect individuals to medication to treat opioid use.
HRSA Takes Action to Improve Care for Children and Youth with Special Health Care Needs
HRSA released The Blueprint for Change: A National Framework for a System of Services for Children and Youth with Special Health Care Needs through a special supplement in the journal Pediatrics. The Blueprint for Change is a national framework to improve care for the nearly 1 in 5 children in the United States who currently has a special health care need. HRSA's Maternal and Child Health Bureau developed The Blueprint for Change in collaboration with families of children and youth with special health care needs, health care professionals, public health leaders, researchers, academic institutions, and other Federal partners.
HRSA Announces National Competition to Spark Innovation to Improve Access to Primary Care
HRSA launched the Building Bridges to Better Health: A Primary Health Care Challenge, a national competition with a total of $1 million in cash prizes to encourage innovation in primary care. Competition participants will accelerate the development of low-cost, scalable solutions to help HRSA-supported community health centers improve patient access to primary care and strengthen the link between health care and social services. It is part of an ongoing effort of the Biden-Harris Administration to address social determinants of health and advance health equity.
HRSA and White House Host Test-to-Treat Webinar
Administrator Johnson, White House COVID-19 Coordinator Dr. Ashish Jha, health centers, rural clinics, and community-based organizations met to review the opportunities to support Test to Treat COVID-19 initiatives in historically underserved and rural communities to combat the pandemic.
HRSA Hosts Webinar on COVID-19 Vaccine
On June 9, HRSA hosted the Building a Village: Community-linkages for COVID-19 Vaccines and Beyond webinar to share information on the COVID-19 vaccine for children ages 6 months to 4 years old. A collaboration between BPHC, MCHB, FORHP and HSB, the webinar for grantees also included presentations by a parent leader, pediatrician, and leaders from CDC and Head Start.
Bipartisan Safer Communities Act
President Biden signed into law the Bipartisan Safer Communities Act (PDF - 161 KB) on June 25. This bill includes $140 million for HRSA to expand mental health care access and grow the behavioral health workforce. The bill reauthorizes and provides $80 million (multi-year) for HRSA's Pediatric Mental Health Care Access Program, which promotes the integration of behavioral health services into pediatric primary care through statewide and regional pediatric mental health care telehealth programs. It also includes $60 million (multi-year) to the Primary Care Training and Enhancement Program to provide behavioral health care training to pediatricians and other primary care clinicians who care for pediatric and vulnerable populations, such as those who have experienced abuse or trauma.
HRSA and CDC Lead Conversation with Community Leaders on Monkeypox
Administrator Johnson joined CDC Director Rochelle Walensky in a conversation with HRSA-supported community health providers and advocates to discuss the Administration's vaccine strategy and prevention tools.