In May—National Mental Health Awareness Month—many of HRSA's efforts bolstered President Biden's National Mental Health Strategy and underscored a key HRSA priority: addressing the mental health needs of children and families in underserved communities across the country. We awarded nearly $25 million to improve and strengthen access to school-based health services, launched a maternal mental health hotline, and urged states to strengthen support for children's mental health. In addition, we announced the availability of $5 million to advance equity in cancer screening at health centers. HRSA leaders were also recognized for their remarkable service to the nation.
This month, key HRSA leaders were recognized for their service to the nation: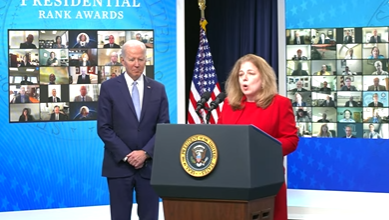 HRSA Deputy Administrator Diana Espinosa, winner of the 2021 Distinguished Executive Award, introduced President Biden at the White House ceremony announcing the Presidential Rank Awards and marking Public Service Recognition Week.
Suma Nair, Director of the Office of Quality Improvement, in the HRSA Bureau of Primary Health Care was named a Finalist for the 2022 Samuel J. Heyman Service to America Medal for COVID-19 Response and a Top 12 Finalist for People's Choice Award. Known as the Sammies, the service awards are administered by the Partnership for Public Service. Cast your vote for Suma!
HHS Leaders Urge States to Maximize Efforts to Support Children's Mental Health
Last week, HRSA and leaders across the U.S. Department of Health and Human Services (HHS) issued a joint letter (PDF - 584 KB) to states, tribes, and jurisdictions encouraging them to prioritize and maximize their efforts to strengthen children's mental health and well-being. As part of the National Tour to Strengthen Mental Health, Administrator Johnson also joined other HHS leaders to host a roundtable discussion to support President Biden's whole-of-government strategy and take up the Secretary's charge to strengthen mental health. Watch their remarks.
HHS Awards Nearly $25 Million to Expand Access to School-Based Health Services
HRSA awarded nearly $25 million to improve and strengthen access to school-based health services in communities across the country. Awards will support local partnerships between schools and health centers to provide children and youth the comprehensive physical and mental health care they need. HRSA Administrator Carole Johnson met with children and health center staff at Quincy Jones Elementary School in Los Angeles, CA, where the Universal Community Health Center operates a school-based health center. While there, she heard from students on the benefits of easy and convenient access to quality health care.
HHS Launches New Maternal Mental Health Hotline
On Mother's Day, HRSA launched the Maternal Mental Health Hotline, a new, confidential, toll-free hotline for expecting and new moms experiencing mental health challenges. Moms can call or text 1-833-9-HELP4MOMS and connect with counselors for mental health support.
HHS Announces $5 Million in Funding to Advance Equity in Cancer Screening at Health Centers
HRSA announced the availability of $5 million for community health centers to increase equitable access to life-saving cancer screenings. This funding supports President Biden's Unity Agenda and his call to action on cancer screening and early detection as part of the Administration's Cancer Moonshot initiative to end cancer as we know it.
HRSA Hosts National Telehealth Conference
HRSA's Office of Telehealth and telehealth.hhs.gov convened our inaugural national conference on telehealth, drawing an audience of nearly 4,000 and including leaders from across HHS, FCC, USDA and other agencies. View the conference sessions and a video about HRSA's telehealth efforts and advances.