Warning:
This page includes graphic medical images that may be disturbing and better suited for medical professionals.
The physical therapist at the National Hansen's Disease Program plays an integral part in the pre- and post-operative treatment of patients requiring foot surgery.
Pre-operative therapy may be necessary to prepare a patient for surgery and may include such interventions as wound care, muscle strengthening or serial casting. Often, a posterior splint is fabricated by the physical therapist prior to surgery for use as a post-operative dressing that will immobilize the extremity.
Post-operative wound care and monitoring of the surgical site in the PT department facilitates early detection of complications or infection at the surgical site should they arise.
Surgical Considerations
A surgical approach to healing the lower extremity may be considered if previously described conservative treatments are not producing optimal results.  Several routine procedures are occasionally performed and designed to balance bony structures, improve biomechanics or enhance soft tissue for reduction of high pressures during functional ambulation.
Procedures for the foot may include the following:
Surgical Debridement
Surgical debridement may be necessary if non-viable tissue is present in a wound; if orally treated osteomyelitis remains unresolved; or if a sinus tract prevents complete wound closure. Post-operative treatment can include immobilization, elevation and antibiotics.
Skin Grafting
Once a non-plantar wound is devoid of all non-viable tissue, healing may be accelerated by a split thickness skin graft or flap. Soft, bulky dressings are often the post-operative dressings of choice.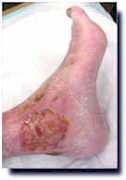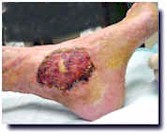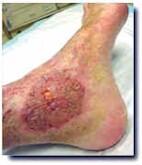 Arthrodesis or Osteotomy
These options may be considered if a joint contracture or a rigid bony prominence creates pressure that cannot be accommodated or managed even in custom footwear. Surgical fusion or bone removal may correct the deformity and eliminate the excessive pressure and the cause of ulceration. Protective footwear will likely be necessary.
Tendon Release/Lengthening
When tendon tightness is the cause of foot deformity, a tendon release or lengthening may reduce the deformity and the risk of injury from high pressure. For example, lengthening of the Achilles tendon may reduce plantar forefoot pressure from equines or releasing the peroneus longus tendon may reduce pressure on a plantarflexed first ray.
Tendon Transfer
A tendon transfer is used to rebalance and restore function to a paralyzed foot. A Tibialis Posterior tendon transfer, for example, is used in the case of foot drop to regain functional dorsiflexion of the foot. A period of immobilization in a cast and rehabilitation to re-educate the muscles following tendon transfer surgery is critical for success of the operation.
Amputation
Amputation in Hansen's disease may become necessary in cases of malignant changes in an ulcer, uncontrollable sepsis, an avascular extremity or if function will be improved with prosthetic usage. The goal is to restore normal, unassisted walking with the minimum amputation necessary. Protective casting or splinting may be required after surgery, followed by appropriate prosthesis or footwear to protect the residual insensitive limb.